The famed beaches of the Hamptons are a top spot for weekend trips from New York City. Situated on Long Island's South Fork, the Hamptons are only about 2.5 hours from the city and boast some of the best beaches on the East Coast.

Miles of shoreline with soft sands offer spectacular views of the ocean and some of the most luxurious homes in the Hamptons. There are plenty of spectacular local beaches to choose from when visiting this elegant collection of hamlets and villages. From Southampton to Montauk to Sag Harbor and more, you'll get the beach vacation you've been craving. Stay at a luxury Hamptons rental, one of the many luxury hotels, or bed and breakfasts.

Keep in mind that during peak season—that stretch of summer between Memorial Day and Labor Day—permits will be required for many beaches. If you're driving out, there will also be parking permits required during the summer months. Many accommodations will offer permits as part of their perks, so be aware of what is included in your stay when you book your luxury Hamptons rental at one of the local places to stay or one of the many luxury homes in the Hamptons.

If you want to avoid the long drive or the need for parking passes, there are other options. The Long Island Railroad (LIRR) will run out to the Hamptons as will the Jitney and other bus companies.

Not sure which beach to visit this trip? Here's a list of the top beach spots in the Hamptons to help you decide.
Eight top beach spots in the Hamptons
Pack the car with all your beach wares, don that designer suit, and don't forget the sunblock as you head out to Long Island's South Fork for some of the most beautiful beaches in the US.
1. Cooper's Beach, Southampton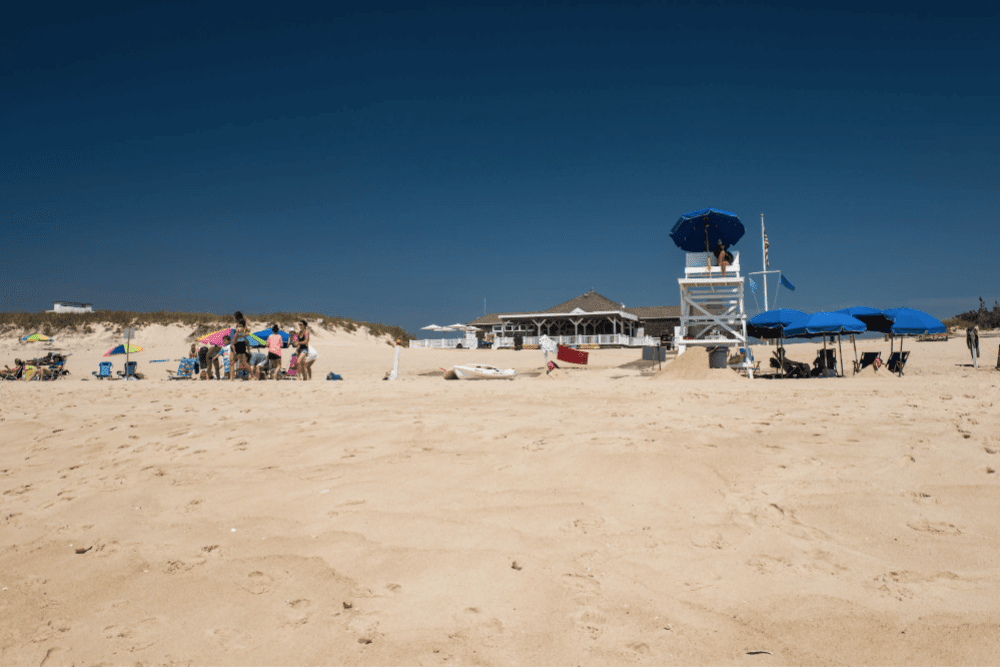 Photo courtesy of iloveny.com
Dr. Beach, one of the world's foremost beach experts, consistently ranks Cooper's Beach in his top 10 beaches in America.
Cooper's Beach ranked #1 in 2023
. Located on Long Island's south shore, this beach is about the size of a football field. You'll be treated to a gorgeous stretch of white quartz sand backed by some of the luxury homes in the Hamptons—which should be no surprise as it is located off "Billionaire Lane." In addition to being a popular beach spot, it is also well known for its surfing.
This beach features public restrooms and showers, a snack bar serving drinks and lunch, and lifeguards in the summer. While this popular spot doesn't require a pass to enter, it does require payment for parking. You can avoid parking fees by biking or catching a shuttle from your hotel if you're staying locally. If you are traveling out for the day, Uber rides are available from the Southampton stop of the LIRR.
2. Main Beach, East Hampton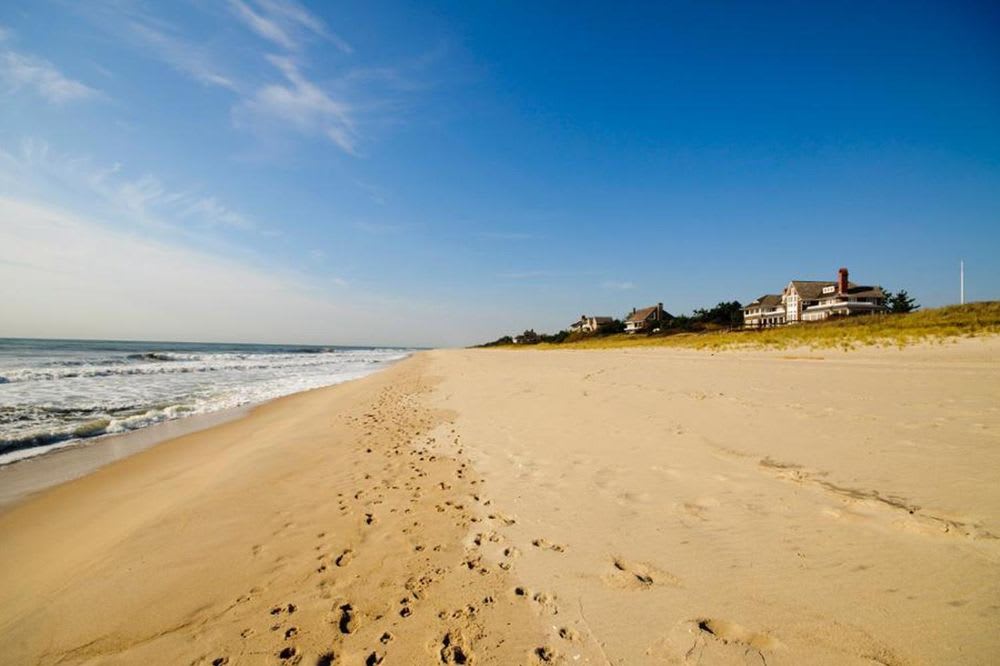 Photo courtesy of BringFrido.com
Despite its location at the top of Dr. Beach's list, Cooper's Beach is not considered the most popular beach in the Hamptons. Main Beach holds that title, topping some of the local lists of best beach spots. It gets some national recognition too, sitting near the top of
Town & Country's list of best East Coast beaches
. Like Cooper's Beach, this hotspot has lifeguards, bathrooms, and a snack bar.
The top spot tends to get crowded on the weekends during peak season as there is a free shuttle offered. If you opt to drive yourself, there is a required parking permit for out of towners—expect to pay at least $30 per day to park. Permits are limited, so be sure to reserve one well in advance of your trip.
3. Two Mile Hollow Beach, East Hampton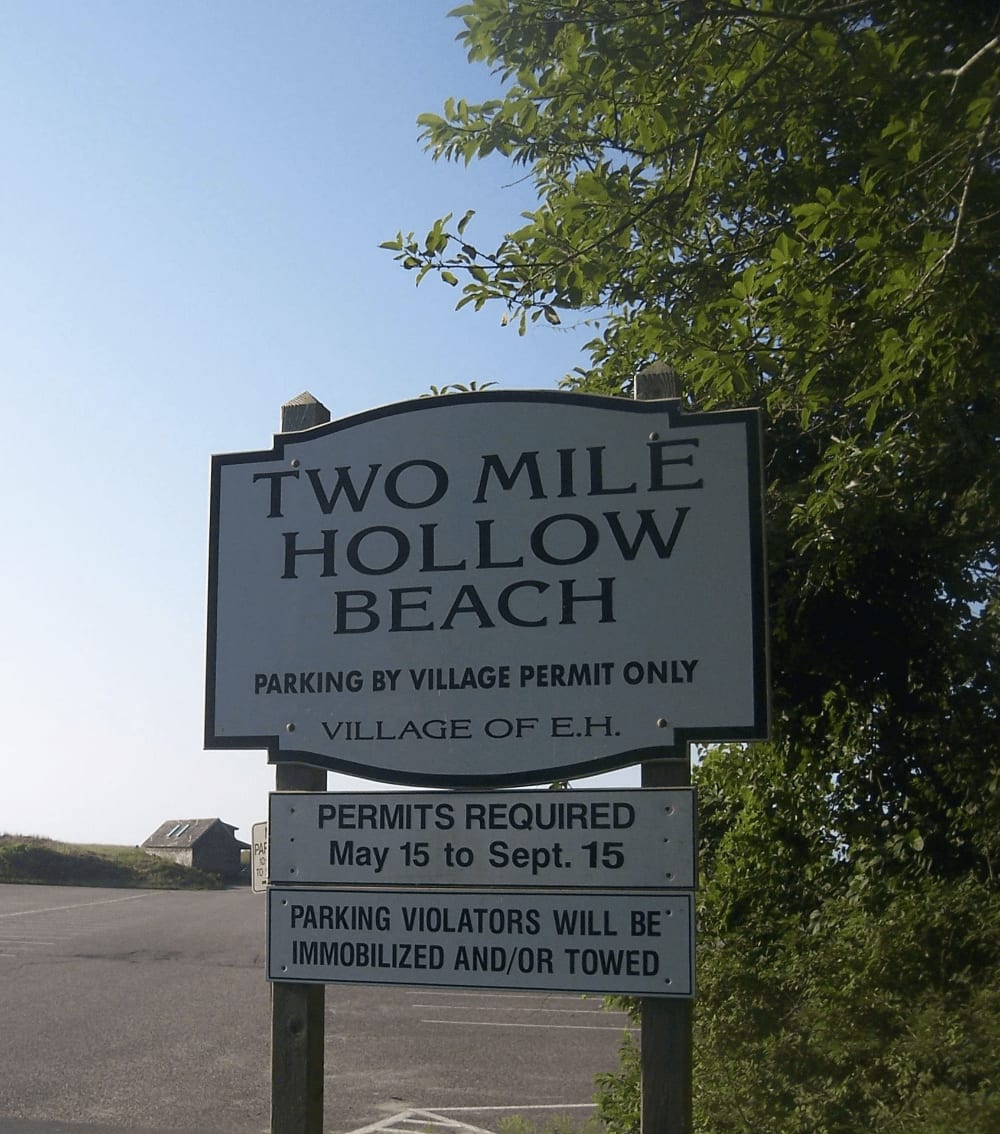 Photo courtesy of easthamptonvillage.org

For a quieter spot in East Hampton, Two Mile Hollow Beach isn't far from the downtown area. Thanks to its more subdued nature, this beach often features fewer children than some of the others on the list. On-site bathrooms and showers are available and a lifeguard is on duty during the busy summer months. This is considered a top swimming spot thanks to the ideal swimming conditions.

Like many of the other beaches on the list, a parking permit is required. You can expect to pay about $50 per day without a seasonal permit.
4. Atlantic Avenue Beach, Amagansett
This family-friendly beach option isn't as expensive as some of the other options. With a parking fee of only about $25 per day, beachgoers can enjoy bathrooms, outdoor showers, a concession stand, and on-duty lifeguards.

The less expensive parking fee means this location will fill up in peak season. If you want to avoid the parking fee, the LIRR does have an Amagansett stop—it's about a 25-minute walk to the beach from there, though Uber rides are also available.
5. Cupsogue Beach County Park, Westhampton Beach
Located on the west end of Westhampton Island, near the east end of Fire Island, this popular local spot offers nearly 300 acres of beauty. As this is a county park, there is a daily fee for entry to this barrier beach. Its location within the park means that there is RV access and some additional amenities the other beaches likely don't offer.

Admission is free after 5:30 pm, but the park fills up fast so it is recommended you arrive early. If you're interested in off-season visits, CRESLI (Coastal Research and Education Society of Long Island) offers mile-long guided walks to spy seals lounging on sand bars from November to April.
6. Ditch Plains Beach, Montauk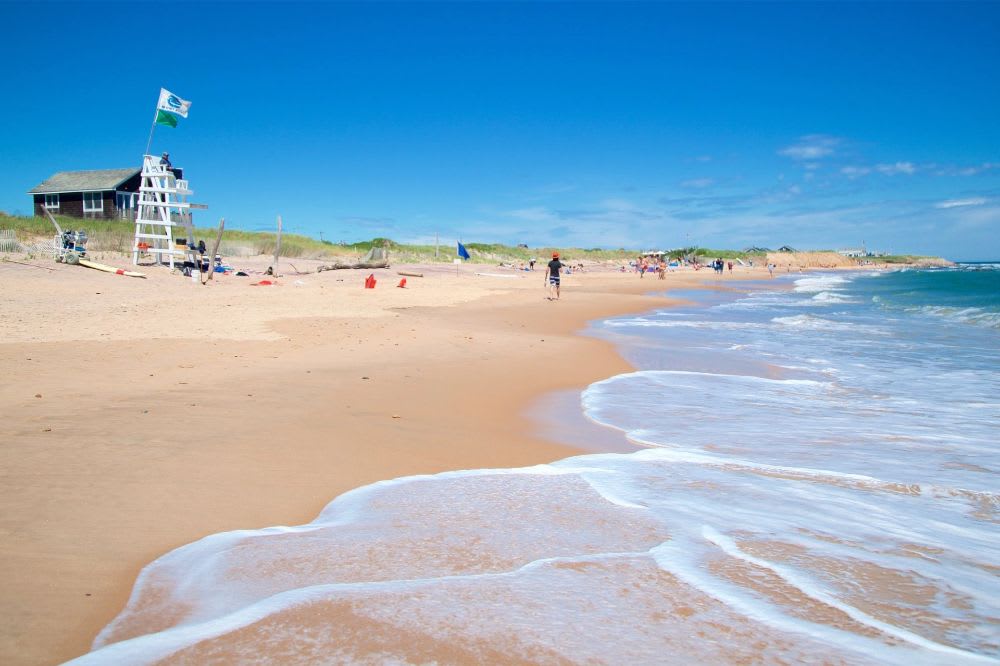 Photo courtesy of Expedia

Located on the tip of the South Fork peninsula, this is a surfer's haven that also welcomes sunbathers and swimmers. Well known for its surf scene, this beach tends to host a smaller crowd even in season. If you're interested in learning to surf, the nearby surf shop offers lessons and rentals.

Parking here is reserved for locals, so this may not be the best option for daytrippers. This beach is better suited for those enjoying one of the local luxury Hamptons rentals.
7. Kirk Park Beach, Montauk
Another Montauk site, Kirk Park Beach is located just off the Montauk highway. Parking here is free, but there are fewer amenities available. There is an IGA supermarket within walking distance for those who want treats without heading back to their rental, but there are no chair or umbrella rentals available.

There is an on-duty lifeguard during peak season as well as public bathrooms and showers.
8. Hither Hills State Park, Montauk
This two-mile stretch of beach is located on the eastern end of Montauk. While still a popular spot for daytime beach activities, this top spot is best known for the hiking and biking trails, fishing, birdwatching, and camping options. The Walking Dunes Trail is home to nearly 200 campsites that offer beach views. Campsites will need to be reserved well in advance, usually about 9+ months.
Enjoy the Hamptons like a local
If you love the beaches available around the Hamptons as much as we do, you may consider more than a luxury Hamptons rental—available both seasonally and short-term.
Mala Sander + Team
can help you find the Hamptons home of your dreams.