Known for its whale-watching opportunities and rich maritime history, Sag Harbor is a popular place for tourists as well as those who own second or vacation homes. Those who love the ocean will find much to do here, including taking cruises, visiting nautical museums, and attending annual and special events. Of course, those who are in town to look at Sag Harbor homes for sale or who live in the Hamptons either part or full time will also get to benefit from the amazingly fresh seafood and other delicious dishes offered at local restaurants. If you are a foodie or you're just looking for a good place to enjoy your next date night, consider making reservations at the following local eateries: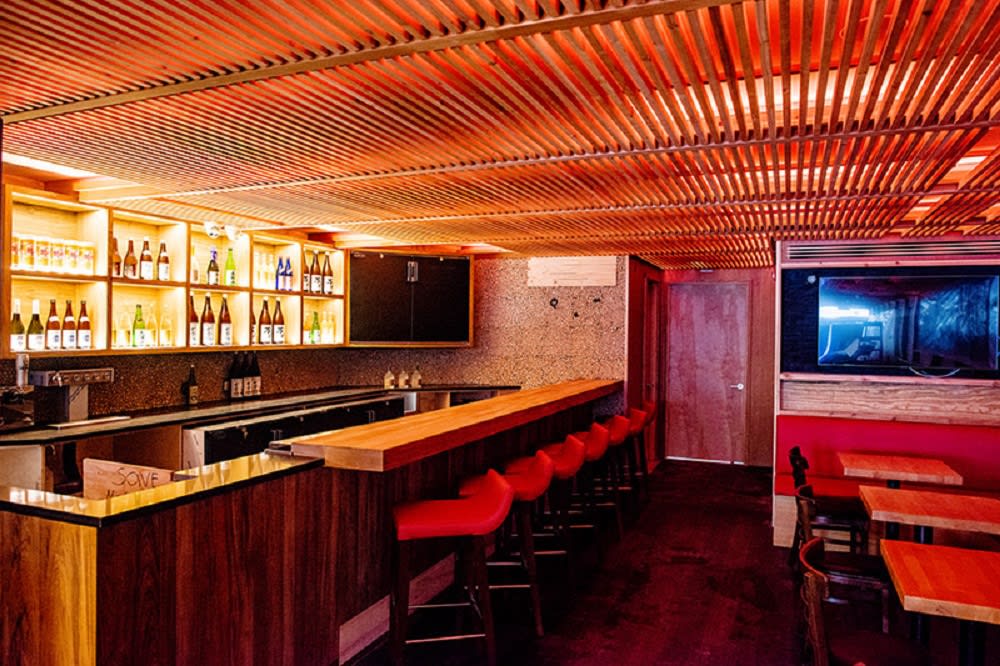 Image courtesy of Sen
When it comes to ambiance and next-level sushi in the Hamptons, you simply can't beat Sen. After a day of lounging at your Sag Harbor home, get dressed up and be prepared to be wowed at this Japanese staple. As you wait for a table, you can sit at the bar and enjoy a Sapporo, hot or cold sake, or a glass of wine. You may also be interested in Sen's signature cocktails, such as the Devilish Romance (Altaneve Prosecco, St. Germain, and pomegranate juice) or Sake Martini. You can also snack on some vegetable gyoza dumplings or jumbo shrimp shumai before you dive into the main menu of ramen, tempura, or top-level sushi or sashimi. Some recommended rolls include the Torched Salmon Roll (torched salmon over a California roll with chili threads and lemon miso sauce), Dakota Roll (fried onion, red crab, avocado, and eel sauce), and Futso Roll (tuna, salmon, avocado, wasabi tobiko, miso sauce, asparagus, cucumber, shiso leaves, and cream cheese).

A well-known landmark in the Hamptons, The American Hotel is not only a good place to stay if you're in town to look at Sag Harbor homes for sale, but it's also the home of five unique and upscale dining areas. You can enjoy an intimate and cozy experience in The Drew Room, a fun and festive drink or meal in the bar or lobby, or take in the outdoors when the weather is nice when you sit on the Front Porch. No matter where you choose to eat or for what meal (the Hotel is open for breakfast, lunch, and dinner 365 days a year), you'll be treated to fresh local foods and some of the best seafood in the Hamptons. You can look forward to sampling caviar, savoring a blue crab and avocado cocktail, or indulging in a fresh Long Island duck breast served with wild rice. Make sure you also ask to see the wine list as The American Hotel has one of the most extensive lists in the world.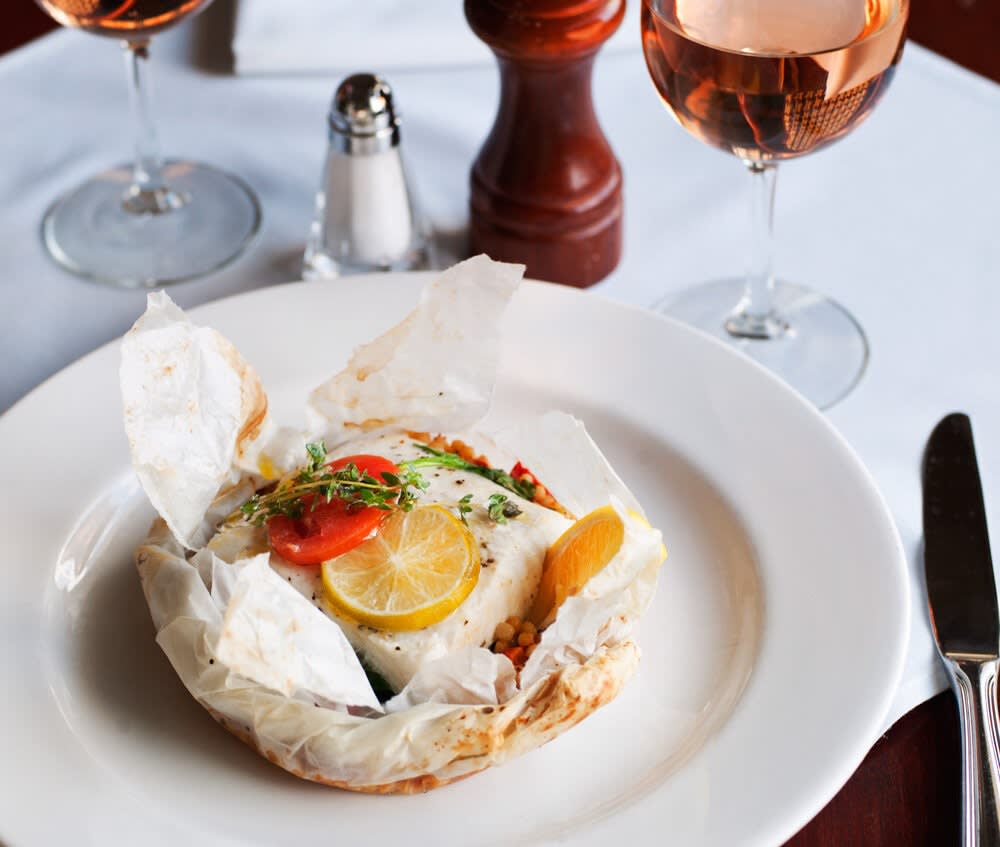 Image courtesy of The Beacon
If you've owned your Sag Harbor home for any amount of time, you'll know that The Beacon has been a staple for more than two decades. With a consistently wonderful menu and fantastic views of the Bay, The Beacon is a go-to for those who want to celebrate a special occasion. The pre-fixe sunset dinner menu is ideal for those who want to spend some quality time with a loved one while enjoying a two-course menu that consists of a starter (examples are steamed mussels "Beacon Style" and pork belly pretzel buns) and an entrée (blackened local fish or lobster rigatoni are two current choices). The Beacon features a small-but-curated wine list as well as a number of bar specialties like The Sun Burn (margarita with house-infused jalapeno tequila and mezcal) and Hello to Jason (rose vodka, prosecco, lemon Pellegrino, and blood orange). This seasonal restaurant is set to have its opening night May 11th, so don't forget to make your reservations for this incredible event!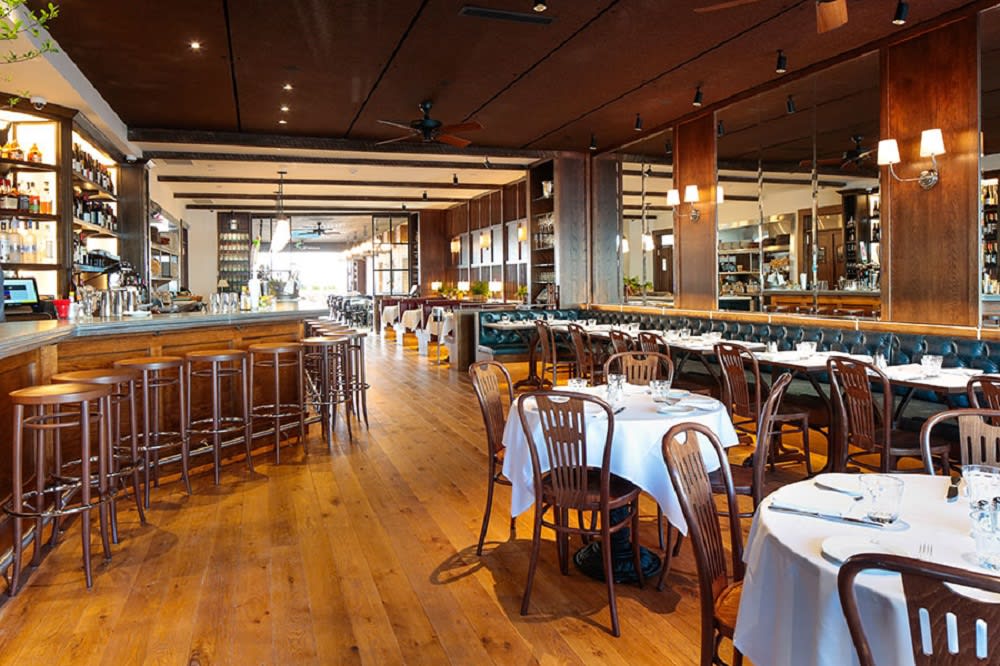 Image courtesy of Lulu
Lulu is not only a favorite brunch spot for those who are in town to look at Sag Harbor homes for sale, but it's also the place to go if you want the best oysters or wood-fired pizzas. If you do come on Sunday from 11:30 am - 4:00 pm, you can enjoy $9 happy hour drinks like mimosas or Bellinis as well as entrees such as French toast, eggs Benedict, smoked salmon, and avocado tartine. For lunch, try the house falafel sandwich or Lulu's cheeseburger and plan to order the grilled whole branzino or skirt steak for dinner. If you still have room after your main meal, consider the half-baked chocolate macadamia cookie or chocolate lava cake for dessert. Wondering which day is the best to visit Lulu's? If you don't mind missing brunch, opt for Wednesday when Lulu's features 25% off all the bottles of wine on their award-winning list.

New Yorkers fond of Gabby Karan de Felice, whose award-winning Tribeca restaurant of the same name closed amidst the COVID-19 pandemic, take comfort in knowing they can find the Italian fare that made de Felice a Manhattan celebrity in the seaside atmosphere of Sag Harbor. Run with her husband, Gianpaolo, Sag Harbor's Tutto Il Giorno is designed to capture the homemade classics of Gianpaolo's Neapolitan mother. Try Classic Neapolitan seafood stew, lamb ragu, or a variety of dishes made with organic pasta direct from Sorrento, Italy. You also won't have to go far for some retail therapy as Gabby shares the hybrid space with her mother, Donna Karen's boutique Urban Zen.
Looking for the perfect Sag Harbor home?
Whether you're already a resident of the Hamptons or you're planning to be in the area to look at Sag Harbor homes for sale, you should plan on visiting one of these restaurants to experience some of the best food in the area. If you're ready to explore Sag Harbor real estate, reach out to
Mala Sander + Team
for expert guidance in finding the best Sag Harbor home for your needs.