Join our own Chris Carney this Saturday, July 15th for an incredible event, the Soldier Ride, organized by the Wounded Warrior Project (WWP) to raise awareness for the needs of injured service members. On July 15th, the 24-mile long cycling event will take place in Amagansett, East Hampton and Sag Harbor, marking the return of this inspiring initiative to our community.
Event Details
When: Saturday, July 15th at 8:45AM
Where: Amagansett Fire Department
439 Main Street, Amagansett NY 11930
Back in 2004, Chris embarked on a remarkable journey, biking an incredible 5,000 miles across the country to advocate for the concerns of wounded military personnel. In 2005, Chris rode cross-country again, this time with two amputees from the Iraq war; Heath Calhoun and Ryan Kelly. Along the way they were joined by over 50 other wounded veterans and the ride morphed into a powerful rehabilitative event, setting the precedent for the Soldier Rides today. Since then, WWP's Soldier Ride has made a significant impact, with four staff teams across the U.S. serving over 14,000 injured warriors and their families through 650 localized events.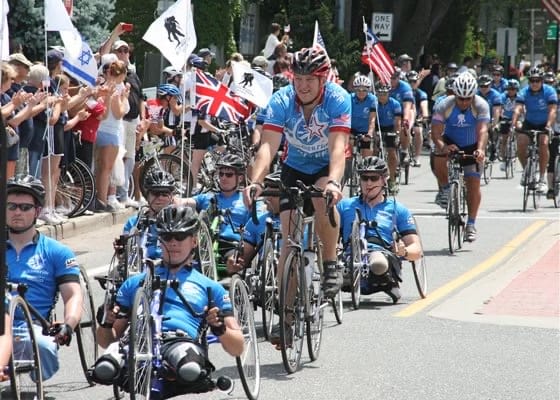 This year, we are proud to have over a dozen local volunteers who will be providing essential logistical support. Their dedication and commitment will ensure that the event runs smoothly and successfully.

This year's route, beginning at the Amagansett Fire Department (439 Main St.)
The Soldier Ride program goes beyond just cycling; it allows East Enders like you to register and cycle alongside injured veterans, all while raising critical funds. By participating in this event, you will not only contribute to the financial support of WWP but also have the opportunity to witness firsthand the transformational power of physical activity, connection, camaraderie, and shared military service bonds.
WWP offers an array of 18 programs, including Benefits Services, Family Support, Mental Health & Wellness, and Warriors to Work. The best part is that all these programs are provided at no cost to veterans and their families.
To find out more information about how you can ride alongside these brave veterans or offer your support, please visit WWP or contact Chris directly. And join us on Saturday for a day of inspiration, community, and making a difference in the lives of our injured warriors and their families.