While the Hamptons is renowned for its incredible seafood and farm-fresh produce, it's also a haven for pizza enthusiasts seeking a slice of paradise–we are in New York, afterall. Whether you're craving a quick bite after a day at the beach or jonesing for a late night slice, the Hamptons boasts an array of pizzerias to suit every occasion. Join us as we embark on a mouthwatering journey through our nine favorite pizza restaurants in the Hamptons, where convenience meets culinary excellence, from west to east.
Pellegrino's, Southampton
Local favorite Pellegrino's is perfect for the whole gang with both Napoletana and New York-style pizzas (the latter is only available for takeout). One characteristic of great pizza is how good it is as leftovers and Pellegrino's dough is up there with the best when it comes to maintaining its flavor and consistency the next day. Standout pies include the Spinach and Artichoke, the Prosciutto and Arugula, the White Pie, and of course the Margherita!
American Pie, Bridgehampton
You might not expect a recommendation for pizza in a strip mall when you're in the Hamptons, but American Pie in Bridgehampton Commons is happy to surprise you! The pizza is rather unique as it comes full size like New York-style but is soft and doughy like Napoletana, so it's the perfect "something for everyone" as you can also fully customize the toppings to your liking, though our favorites are the White Pizza and classic pepperoni. What's more? They deliver! A true rarity for restaurants in the Hamptons.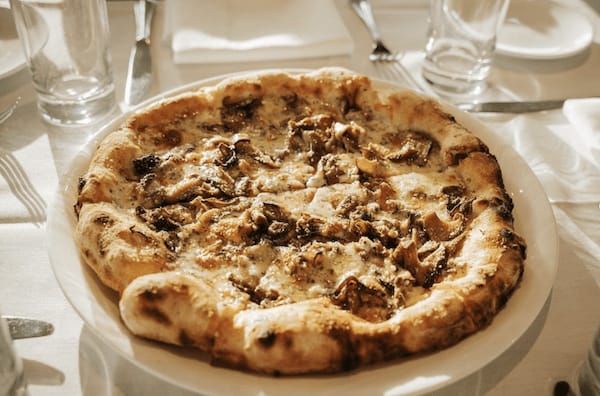 The forest mushroom and summer truffle pizza at Dopo il Ponte.
Dopo il Ponte, Bridgehampton – Wood-Fired + Gourmet
If gourmet pizza is your go-to, you'll love the inventive individual-size varieties of Dopo il Ponte's wood-fired pizza. Light, fresh and super-thin, it still packs a punch with options like the Diavola with spicy 'nduja sausage, the Funghi with mushrooms and summer truffle, and the Friarelli with sweet sausage and broccoli rabe.
La Cappanina, Wainscott
Another great, casual pizza spot that always delivers–literally and figuratively–La Cappanina is considered by many locals as the best New York-style pizza in the Hamptons for over a decade. If you want to go beyond the classics like cheese and pepperoni, you have to try the Chicken Parmigiana Pizza, and one of their seafood pastas!
Shelter Island Slice, Shelter Island
For a slice of nostalgia, head to Slice on Shelter Island. Formerly the beloved Conca D'Oro in Sag Harbor village, Slice serves up delicious New York-Style 18" pizzas and individual slices, with unbeatable classics like Plain Cheese or White, and fun updates like Buffalo Chicken or the ever-controversial Hawaiian.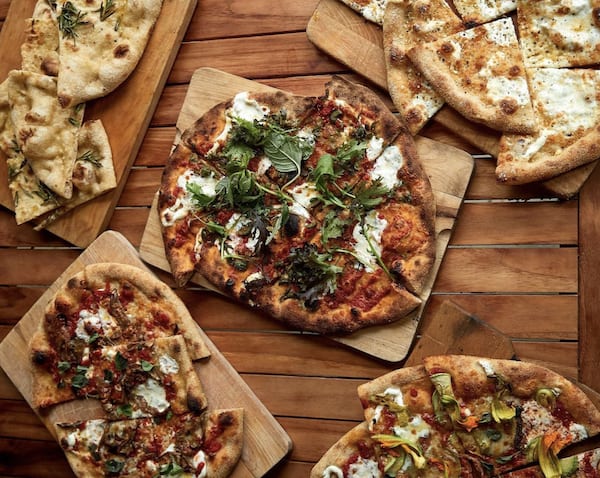 The ancient grain foccaccias at il Buco al Mare.
Il Buco al Mare, Amagansett
Il Buco's "ancient grain focaccias" are their answer to pizza, and we guarantee you won't miss the latter one bit! With tantalizing, inventive options like roasted eggplant with smoked anchovy and classics like the margherita, all made with ancient triticum durum flour from Sicily, every bite is like a trip to Italy. Now you just have to get a table!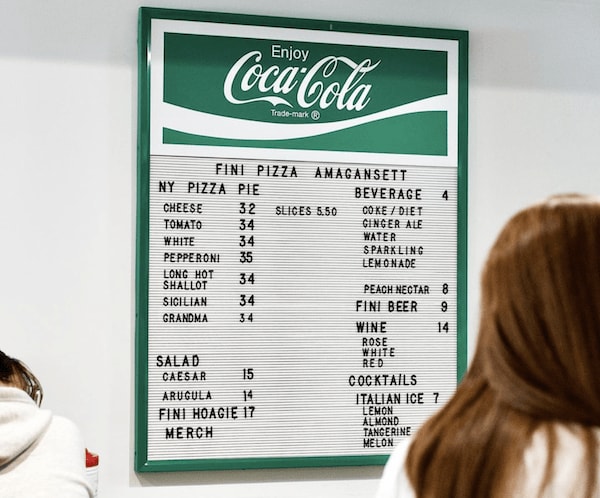 It doesn't get any more old school than the menu at Fini.
Fini Pizza, Amagansett
The year is 1977, your grandfather just gave you a quarter to go grab a slice at the end of your block in Brooklyn… Except it's 2023 and you're at one of Amagansett's hottest new eateries. Following the success of their Williamsburg location, Fini opened their Amagansett outpost this summer. Featuring an approachable menu of classics done to perfection, plus salads and cocktails, you'll love this super cool spot almost as much as you love the Italian ice you won't be able to resist for dessert.
Dive Bar Pizza, Amagansett
Dive Bar Pizza AKA Best Pizza (pictured in headline) is a spacious, laid-back bar and pizzeria offering both indoor and outdoor seating, with a strong focus on vibrant summer nightlife. Enjoy watching major sports games and surf or skate videos while indulging in delicious, New York-style pizza. This local favorite even hosted the after party for Gucci's summer party last summer, so you never know who might be hanging around.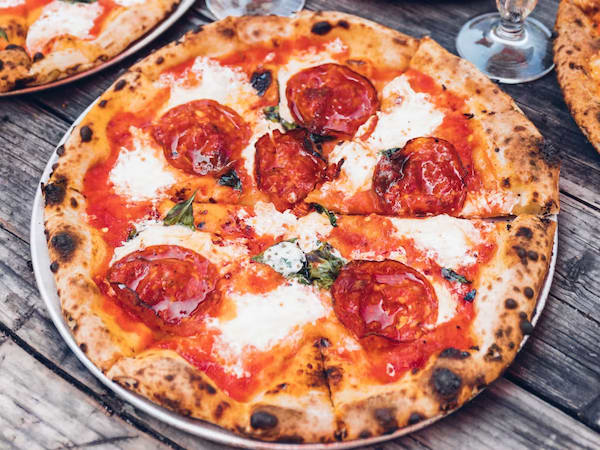 The famous "Bee Sting" at Roberta's
Roberta's, Montauk
Another Brooklyn-born pizzeria that has made its way out east, Roberta's is in its second season after opening their Montauk location in 2022. Known for its wood-fired pizzas and social outdoor spaces, Roberta's is a great place for a casual meal with some drinks that might turn into a party. You'll find tons of inventive pies like their famous Bee Sting, as well as other updated italian dishes!