Welcome to the vibrant music scene of the Hamptons, a place where the rhythms of life are accompanied by the melodies of legendary icons like Billy Joel, Jon Bon Jovi, and Jimmy Buffett. This idyllic coastal enclave, known for its pristine beaches and exclusive estates, also offers a rich tapestry of live music venues that ignite the nights with unforgettable performances. From intimate bars to sprawling outdoor venus, the Hamptons is a haven for music enthusiasts seeking extraordinary experiences. Let's explore the best live music venues in the Hamptons, where the legacy of iconic musicians comes alive and creates an atmosphere that is nothing short of magical.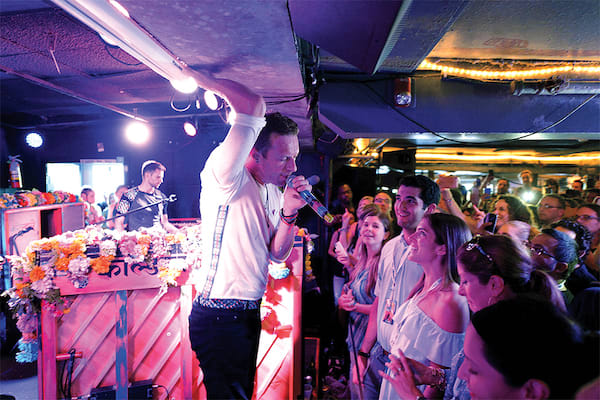 An unforgettable performance by Coldplay at the Stephen Talkhouse
Stephen Talkhouse, Amagansett
Discover the iconic essence of live music at the Stephen Talkhouse, an extraordinary and intimate venue that has been captivating audiences since 1987 by showcasing a harmonious fusion of internationally-renowned performers and talented local East End artists. Nestled on Amagansett's vibrant Main Street, the Talkhouse stands as a legendary music scene and casual neighborhood bar, creating an unparalleled atmosphere where you can forge new connections or reunite with familiar faces, while sharing the same space with your favorite musical icons on the other end of the bar–from Jimmy Buffet to Billy Joel and Jon Bon Jovi. While summer's embrace may be fleeting, The Talkhouse crafts exceptional entertainment and community engagement that resonates year-round. Click here for the full lineup.
The Clubhouse, East Hampton
The Clubhouse is a fantastic destination catering to individuals of all ages with a delightful blend of leisure activities, including mini golf, bowling, and the ever-entertaining karaoke. This captivating venue goes above and beyond by hosting an array of exciting events nearly every night, including their "On The Lawn" outdoor concert series. Who knows? You might just find yourself witnessing the electrifying presence of none other than the iconic Bon Jovi gracing the stage for a jaw-dropping surprise performance. Check out the full lineup here.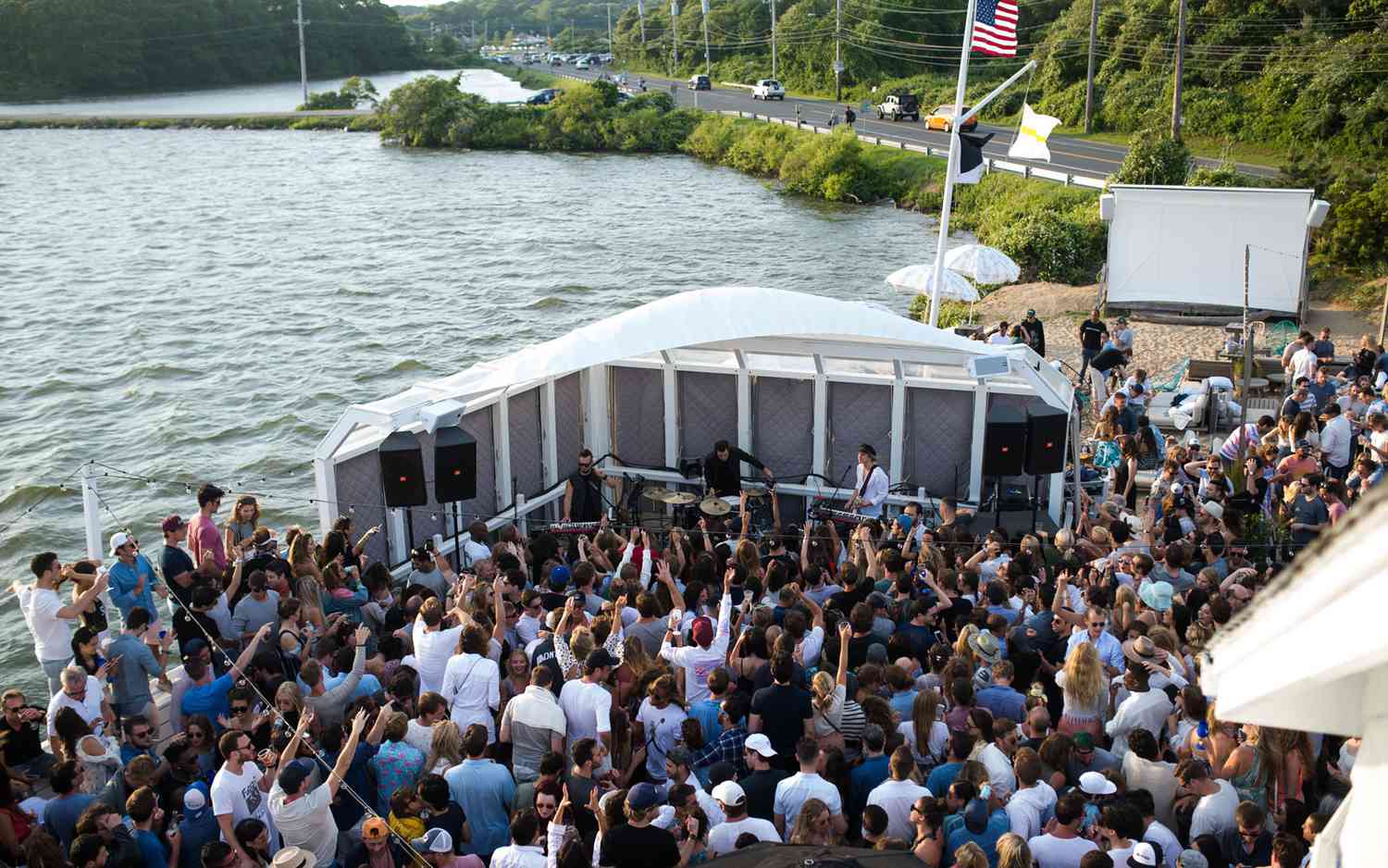 Live music at the Surf Lodge
The Surf Lodge, Montauk
Prepare to be captivated by the pulsating beats and electrifying melodies at Montauk's premier hotspot: The Surf Lodge. With an outdoor bar that offers breathtaking vistas of Montauk's enchanting Fort Pond, this destination has earned its reputation as the go-to venue for Hamptons party enthusiasts, with a crowd that effortlessly exudes style. However, what truly sets The Surf Lodge apart is its unwavering dedication to music. The property proudly showcases an outdoor stage that has recently witnessed the awe-inspiring performances by today's hottest artists such as SG Lewis, Hayden James, and Purple Disco Machine, just this summer alone, and with crowd favorites like Busta Rhymes, Zhu, SAINt JHN, Bob Moses, Anderson .Paak and more on the docket still to perform this summer. Check out the full lineup here.
Kidd Squid Brewing Co., Sag Harbor
The newest (and brew-est) addition to the live music scene is Sag Harbor's own brewery, Kidd Squid. Known for an ever-rotating tap of delicious beers, we love that Kidd Squid is all about embracing the local community--since launching just over a year ago, they've already collaborated with a slew of our other favorite local businesses like the Sag Harbor Cinema, Dragon Hemp, the LGBT Network, and more. This summer, you can enjoy your lagers, pilsners and IPA with a side of live music at Kidd Squid's Beer Garden, with the schedule released weekly on their Instagram. Click here for this week's schedule.
Calissa, Water Mill
Immerse yourself in a summer of sensational live music at Calissa, Water Mill's own homage to Mykonos, as they unveil their third annual Calissa Sounds lineup. Treating guests to enchanting Thursday nights of live music on their picturesque patio, the concert series begins on July 27 with a scintillating performance by Ashanti & Fat Joe, followed by an electrifying headline set from the renowned electronic duo Gorgon City on August 3. Wyclef Jean returns for the third consecutive year on August 17, followed by the mesmerizing spins of Samantha Ronson on August 24, and the grand finale brought by Sigala on August 31. All concerts begin at 10PM, giving you enough time to Indulge in Calissa's delectable Mediterranean menu and wide selection of drinks before dancing harmonious symphony of sensational live performances. Click here for the full lineup.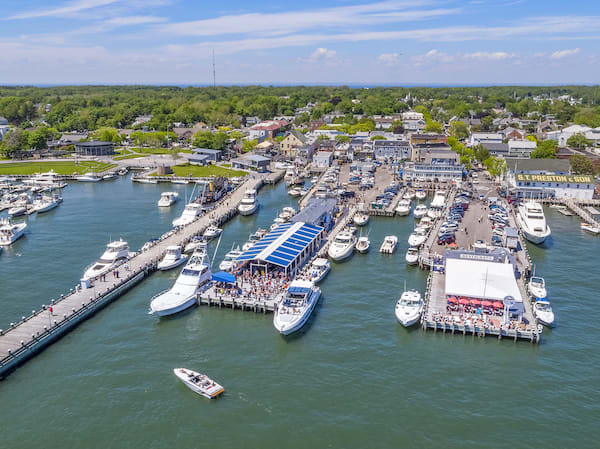 The incredible waterfront setting at Claudio's
Claudios, Greenport
Located in the heart of Greenport on the Harbor, Claudio's is truly a destination with 5 diverse restaurants and bars for unforgettable summer days. Beyond the food and lip-smacking libations, one thing that sets Claudio's apart is the entertainment. All summer long on most Fridays through Sundays, you can expect fantastic live bands and even livelier ​crowds dancing and singing along! Check out the full lineup here.