When it comes to summer, nothing says comfort food like a burger. The beauty of a burger is you'll find one (or more) on most menus, particularly out here in the Hamptons. Whether you prefer a classic take or a gourmet spin, white meat or no meat at all, the Hamptons has a vibrant burger scene that tantalizes the taste buds of locals and vacationers alike. From juicy, handcrafted patties to creative toppings and mouthwatering buns, we're taking you on a gastronomic journey through the hamlets, for our favorite hamburgers in the Hamptons!
Bell & Anchor, Sag Harbor – Beyond Burger – "Best Meat-less"
You might not expect the first burger on our list to be meat-less, but Bell & Anchor's Beyond Burger is not only one of the best vegetarian burgers you've ever had, it's one of the best classic burgers--period--with LTO, pickle, and a side of fries. And for those who prefer meat, many locals consider the Sirloin Burger to be among the best in the Hamptons, as well.
The Double Smashburger at Doubles
Doubles, Amagansett – Smashburger - "Best To-Go Burger"
Known for flavorful Caribbean fare, this fast-casual restaurant also has one of the best burgers in the Hamptons, perfect when on-the-go given its smaller size. In lieu of the traditional tomato and onion, the burger features American cheese, pickles, iceberg, pickled peppers and tangy secret sauce to spice things up on a potato bun. Make it a double or order two–or three–because one 3oz patty just won't be enough!
Jean Georges at Topping Rose, Bridgehampton – Cheddar Cheeseburger – "Best Gourmet Burger"
We're purists, so we don't like straying too far from a classic burger… unless it's from Jean Georges. The Passion Fruit BBQ Sauce and grilled onions on the burger at Topping Rose are just enough to make things interesting, while keeping it cohesive for the perfect bite. This tangy burger will be gone before you know it, but the good news is it comes with some of the best fries in the Hamptons!
Almond, Bridgehampton – Turkey Burger – "Best White Meat Burger"
"No red meat, no problem" at Almond with their Ground Turkey Burger "Deluxe." Remember the McDonalds Big Mac you loved as a kid? This is it–all grown up!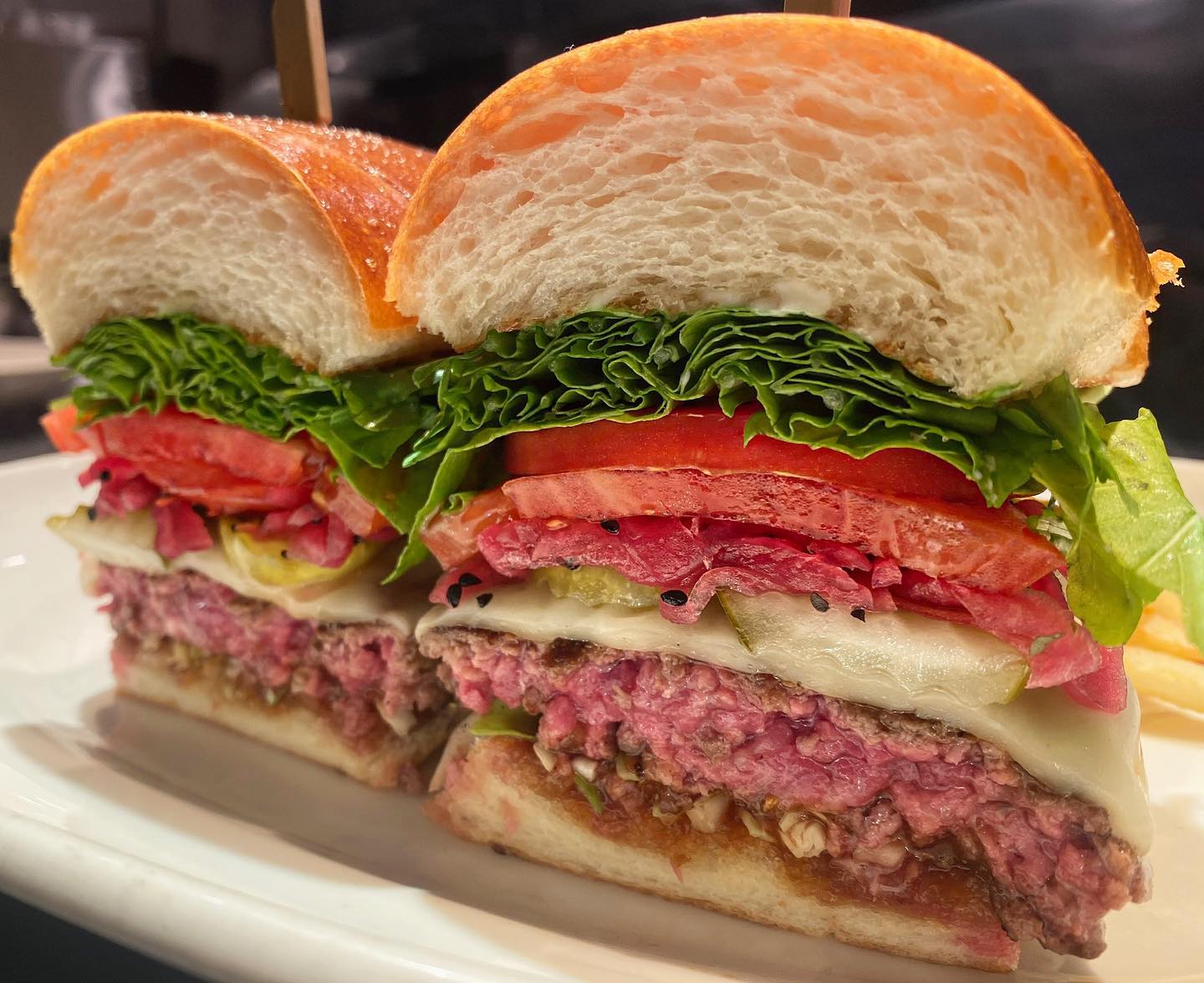 The Cheeseburger at East Hampton Grill
East Hampton Grill, East Hampton – Cheeseburger – "Best Ambiance"
No matter where you are in the country, you can trust a Hillstone for consistent, quality food, great service, and a super chic ambiance. Just about everything at East Hampton Grill is as delicious as it is comforting, and the burger is no exception, with a tantalizing blend of fresh-ground chuck and brisket that is so good you could eat it all on its own. And nothing is better than a burger in a dimly lit dining room reminiscent of your favorite New York City steakhouse or with a crisp martini–or beer–at the bar!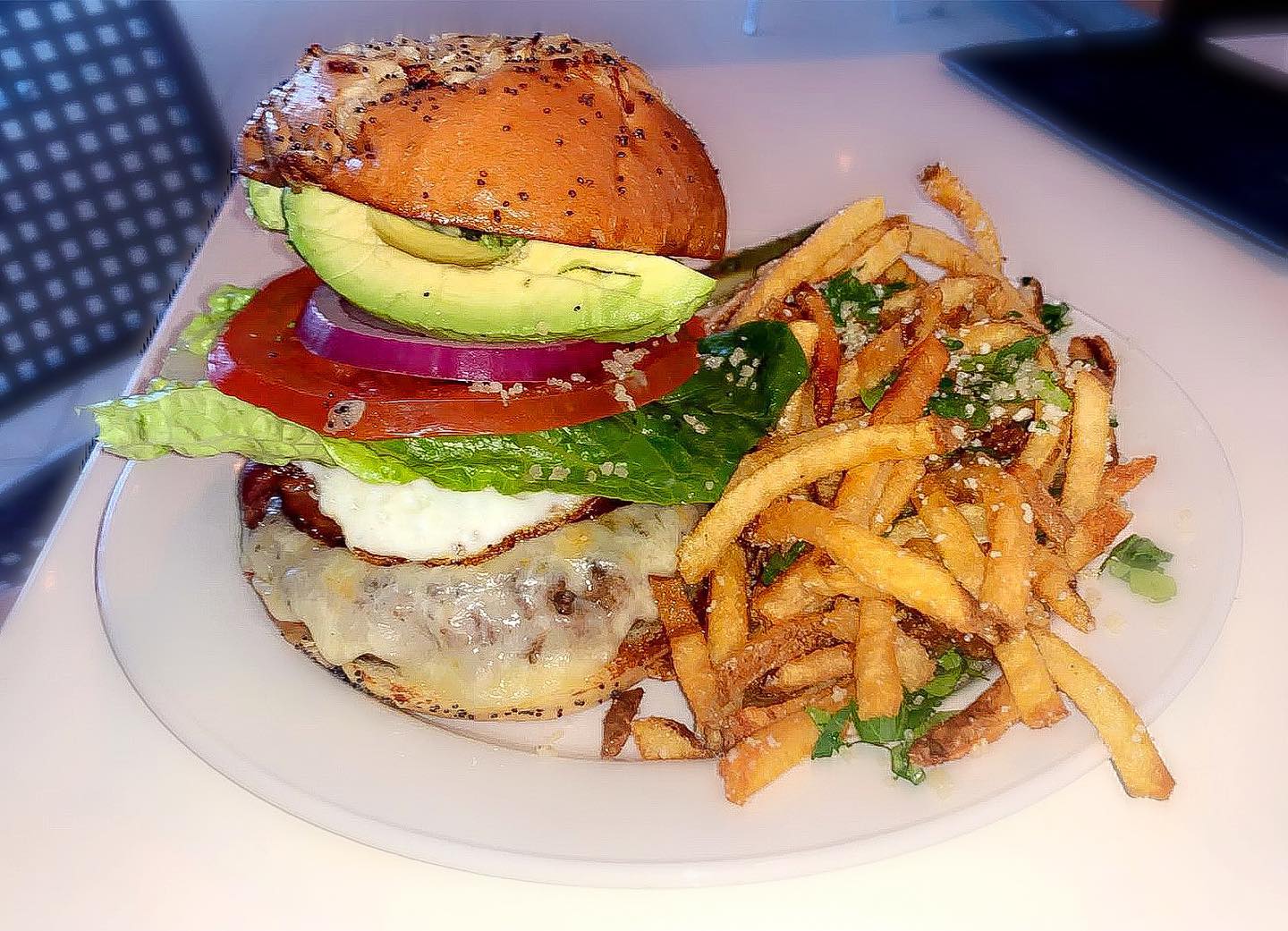 The Cittaburger at Cittanuova
Cittanuova, East Hampton – Cittaburger – "Best Kept Secret"
You might not expect one of the best burgers to be at an Italian restaurant, and that's what makes this burger so darn good! It all starts with Mainstreet 1946 Dry-Aged Beef from Farmingdale Meat Market–a mixture of Wagyu Brisket, Boneless Short Ribs, Prime Aged Rib Cap and Angus Chuck–that is also in the running for "Best Blend." Add LTO, homemade garlic dill pickles, and the option of a variety of cheeses and other toppings of your choice on an Onion Brioche, and you might never order pasta there again!