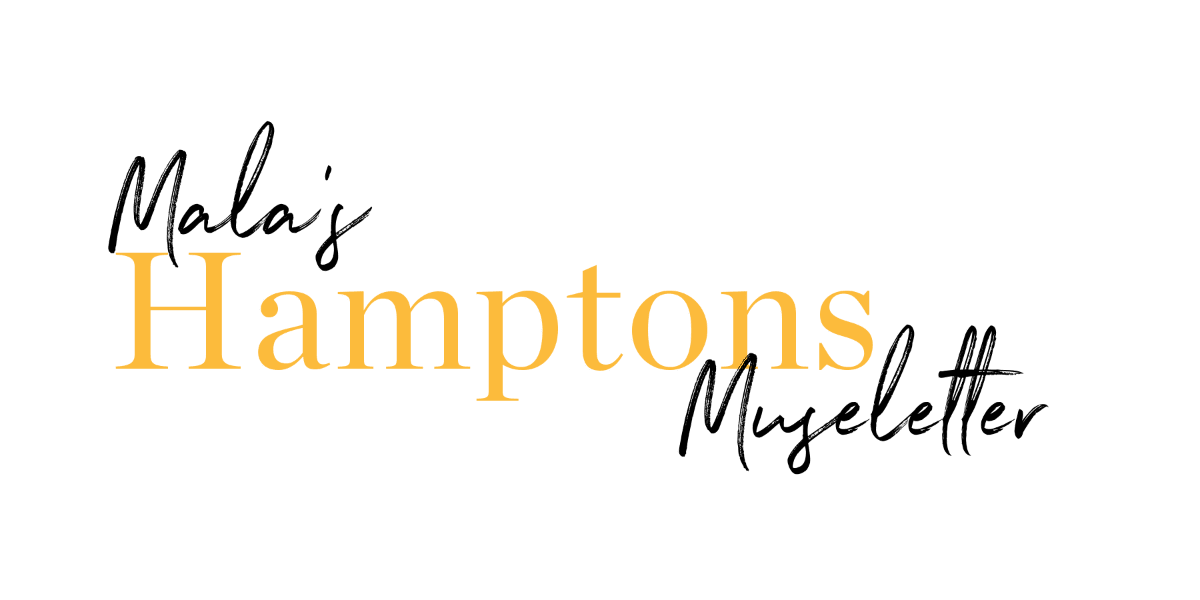 Happy MDW! What a great way to kick off summer by remembering those who gave their lives for this great country, and as a reminder to live each day to the fullest -- exactly how we spend the season out here, and now more than ever!

How great is it to be able to actually "see" familiar faces again? And to be able to give a big hug "hello" when we see our friends and family is... Just Wow! We've finally turned the corner back into normalcy. The sun is coming out, the season has officially begun, and the market is HOT!

The number one question is ... are we still in a seller's market? YES! Although we're seeing inventory levels start to increase (last week saw 48 new listings, up 12% from the previous week), supply is still nowhere close to keeping up with demand, which typically only increases during the season.

Have you heard? I've now officially become Mala Sander+Team at the Corcoran Group. What does this mean? That consistently providing my clients with a high level of service takes a dedicated team of individuals, with the same laser focus on making their real estate dreams come true.

Meet my incredible team:
As our summer gift to you and to show you our collaborative power -- and individual personalities -- we put together our go-to summer picks for the East End.

So without further ado, we present to you...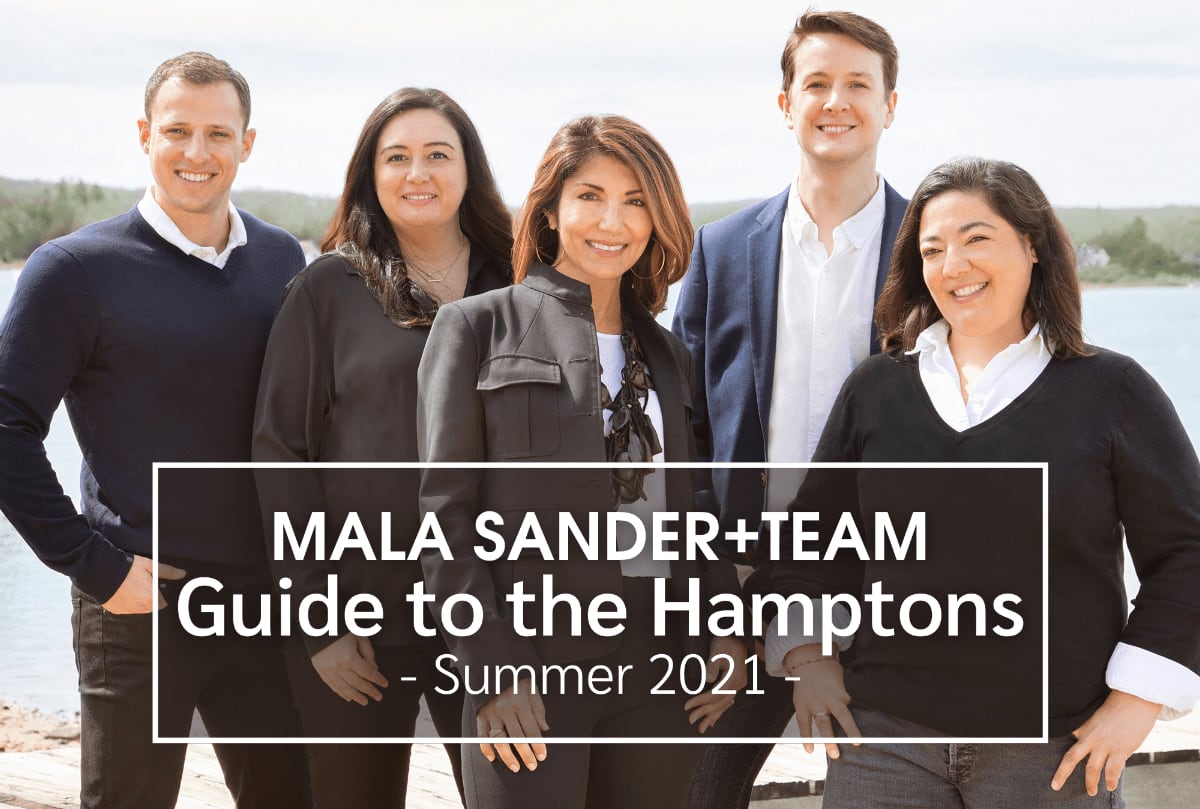 WEEKDAY DINNER
Mala Sander: Lulu - always good vibes, always good food!
Chelsea Massa: La Fondita - all about the tacos!
Kyle Koz: Suki Zuki. The chicken teriyaki salad might be the best salad in the Hamptons.
Maxwell Labadie: Bell & Anchor - surf n' turf with a Caesar to start - one of the best Caesars!
Tina Pignatelli: My own grilled local clams with charred lemon and crispy bread. If I'm going out, Highway Restaurant - Chef Justin crushes it! Thai fish curry is the bomb!

WEEKEND DINNER (Out w/ Friends)

TP: Coche Comedor - tacos and margaritas!
MS: Love the vibe at Tutto Il Giorno and The Beacon!
CM: Serafina - pasta, pasta, pasta!
KK: Bell & Anchor. Sam and David provide the complete package: food, ambiance, service, smiling faces, and vibes!
ML: Bilboquet or Moby's - nothing like their patios.

DATE NIGHT

MS: The American Hotel: Ice-cold Vinny martinis, and the Seafood Tower
TP: Rosé on the beach with a [takeout] sushi picnic from Yama-Q
CM: East Hampton Grill - best ribs!
ML: Seconding EH Grill - best ribs, best appies for sharing like the Oysters St. Charles, and the always-chilled martini glass is key! And tied with B&A for best Caesar!
KK: 1770 House

DESSERT

CM: Buddha Berry - all the toppings!
TP: Page
ML: Page - the espresso cheesecake (pictured) and apple cake are insane
KK: Page - I'll admit I'm biased, but try it and tell me I'm wrong!*
*Kyle's wife, Arina, is the pastry chef.

COCKTAILS

MS: American Hotel - Vinny and Paul are the best bartenders anywhere!!
ML: Highway for the Snake Eyes or EH Grill for a Paper Plane
TP: Baron's Cove
CM: Blue Parrot - Best frozen Margarita or BP Tea!
KK: Carl Pilcher mixes up a great cocktail (Beacon/Bell & Anchor)

SUNSETS
MS: Beacon - have you seen my instagram!
ML: Beacon
TP: Beacon, or my backyard!
CM: Montauket
KK: Long Beach
LAST MINUTE (Without a Reservation)
TP: Dockside
MS: Good luck!
CM: Bostwicks - lobster tacos!
KK: In summer? Haha! See takeout.
ML: I know people who know people. Or I cook.
TAKEOUT
TP: Sag Pizza
MS: Round Swamp has the most amazing prepared foods! And if you're in the mood for something more exotic: Saaz Indian - they deliver!
CM: Smokin' Wolf - best BBQ!
KK: La Capannina Pizza - or a Breadzilla sandwich for lunch
ML: Kissaki - the maki is actually reasonable - the spicy tuna is life-changing! I was also just turned onto Pellegrino's pizza - best dough!

BOOZY BRUNCH
MS: Tutto il Giorno - so great for a group!
CM: Nick and Toni's - best Bloody Mary board with all the toppings!
TP: Estia's!
KK: Estia's is always great. Used to be Highway - please start doing brunch again!
ML: Duryea's all day - either location! Or Bilboquet!
HANGOVER CURE
MS: Breakfast at Dockside
ML: Estia's - pork burrito, shrimp quesadilla, taco soup… ok really just their green sauce on anything!
CM: Goldberg's - bagel with eggs, avocado and bacon
KK: Goldberg's - Taylor ham, egg, and cheese on a toasted everything bagel
TP: DripDropORS and a SoulCycle class… then Goldberg's everything flagel w/ eggs, turkey bacon

COFFEE

TP: Grindstone
MS: Grindstone
KK: Grindstone for hot, Sylvester's Dreamy for iced
ML: What Kyle said, and my Nespresso in bed!
CM: Jack's - Happy Jack with Oat Milk
BAKED GOODS

MS: Carissa's has unbelievable breads, cakes and treats.
CM: Carissa's - best croissants or monkey bread!
TP: Carissa's and Lori Gilmore
KK: Armin & Judy makes the BEST bread. More people need to know this.
ML: Round Swamp - especially Lisa's chocolate chip cookies -- frozen -- with milk

FARMSTAND
MS: Fairview Farms at Mecox - Gorgeous produce, home-baked pies, PLUS the most amazing rotisserie duck you will ever have!
TP: Serene Green
ML: Serene Green - don't miss the mozzarella
CM: Balsam - best produce
KK: Round Swamp is the classic, but there are so many you can't go wrong!
FLOWERS
ML: Missi Flowers - her bouquets all feel so natural and effortlessly chic
TP: Arthur Golabek or Sag Harbor Florist
MS: Bridgehampton Florist where Michael and Jim work their magic on arrangements, or my own garden! ps... don't miss the farmstand flowers on Ocean Road (honor system!)
CM: Any farmstand or farmers market does the trick!
KK: Topiaire always puts together thoughtful bouquets. Bonus is the old school candy shop while you wait!
GIFTS
TP: Sunny Sag Harbor
MS: Hudson Grace and Clic - from host gifts to housewarmings!
CM: 8th Drifter
KK: Ryland has all kinds of fun stuff
ML: Ryland for candles and books.
CLOTHING
MS: I'm obsessed with Henry Lehr, Nili Lotan, and now Veronica Beard, who just opened in Southampton on Main Street. Top secret: Havens in Sag Harbor is amazing, too!
TP: Gloria Jewel
CM: Gloria Jewel
KK: Ask my wife!
ML: Ryland and Tenet, or any kitschy souvenir shop for fun local swag.
SPLURGE
MS: A day off!
ML: Galerie Michael Bargo pop-up in Sag Harbor! And anything Robert Stilin.
TP: Henry Lehr
CM: Gurney's - everyone can use a spa day!
KK: Sant Ambroeus

BEACH DAY
TP: Gibson Lane
KK: Gibson Lane
MS: Any oceanfront house!
ML: Two Mile
CM: Georgica or Wiborg - reading a good book!
DANCING
MS: Post-dinner at home often turns into....
TP: Murf's
CM: Stephen Talkhouse - live music is the best way to dance!
KK: Stephen Talkhouse
ML: Skyfall. IYKYK.
WORKOUT
TP: SoulCycle and Rambo fitness AKA Samantha Duane personal training
MS: My Peloton and the on-demand classes!
CM: Paddleboarding at Gerard Drive or Louse Point
KK: I'm a runner when the weather is nice. To get out on the water, Mill Creek Marina offers Kayak and Paddleboard rentals. In August, I sweat by going outside!
ML: Sag Harbor Gym, cycling and running... and dancing!