Embrace the spirit of summer in the Hamptons with our curated guide of go-to spots for when you're on the go! Whether you're a beach enthusiast, a busy traveler, or simply seeking delicious food on the move, this article is your go-to resource for satisfying your cravings without compromising on taste. Discover a selection of convenient and delectable options that will fuel your adventures and keep you satiated during your sun-soaked days in the Hamptons. From gourmet fast-casual spots to charming grab-and-go spots, these culinary gems will ensure that every bite is a delightful experience. Get ready to savor the flavors of the Hamptons while on the move!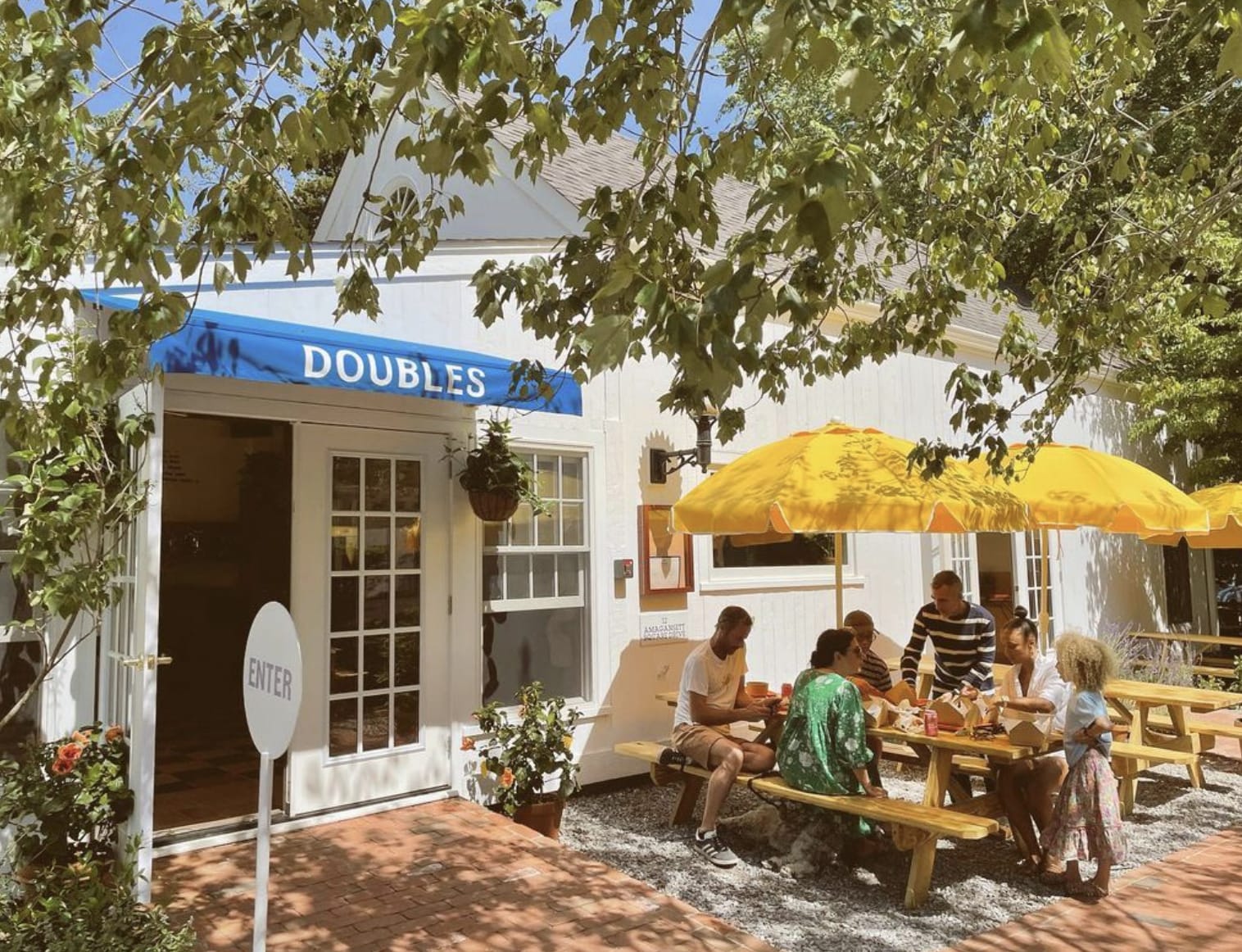 Outdoor dining at Doubles overlooking Amagansett Square
1. Doubles, Amagansett
Located in the bustling Amagansett Square, Doubles specializes in top-quality Caribbean cuisine in a fast-casual environment. We love their Roti (South Asian flatbread similar to a tortilla) stuffed with various fillings, from scrambled eggs in the breakfast roti to curried potato and chicken at lunch. Other highlights include their salads, bowls, delicious Smashburger, and of course housemade hot sauce. Whatever you get is sure to give you a welcome kick in the taste buds!
2. What the Falafel, Sag Harbor
Sag Harbor's newest (and first?) vegetarian and vegan takeout option specializes in one of the world's oldest street foods. Taking over the former Jack's Coffee (which has moved to Main Street), What the Falafel makes everything fresh in-house daily, including their homemade pita, and also offers healthier alternatives to the fried falafel with the baked falafel wrap or for those avoiding gluten or carbs with their falafel salad bowls. Other highlights include hummus and baba ghanouj dips, falafel burgers, and tahini shakes!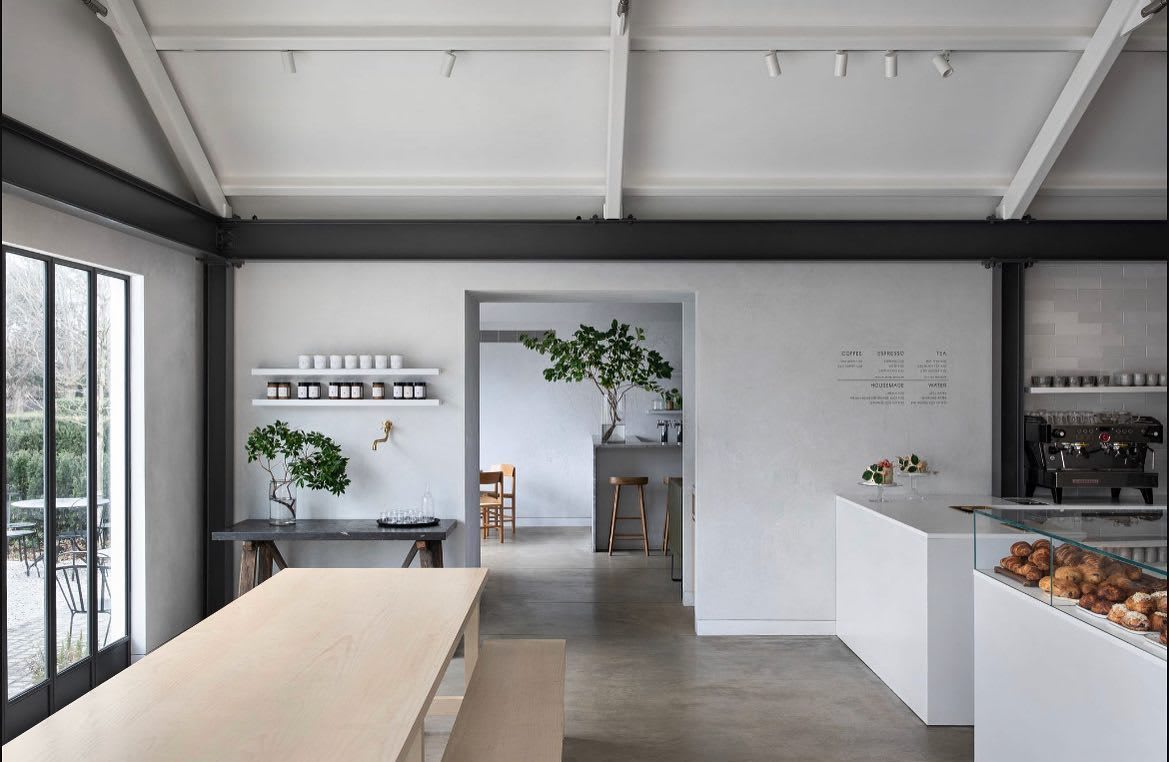 The award-winning interior at Carissa's original East Hampton location.
3. Carissa's, East Hampton + Sag Harbor
Offering high-quality food made from locally sourced ingredients in a chic space to match, Carissa's won a James Beard Award for the design of their first location. Now with three locations: the original on Pantigo Road and one on Newtown Lane in East Hampton, and their newest location on Bay Street in Sag Harbor, their menu includes delicious, seasonal lunch and breakfast options such as the spicy kimchi cheddar croissant and the seasonal market salad with shallot mustard dressing, and a plethora of beloved baked goods from pastries to co-owner Carissa Waechter's famous salted soured pickled rye bread. Go during the week to avoid lines, or make sure to get there early on weekends!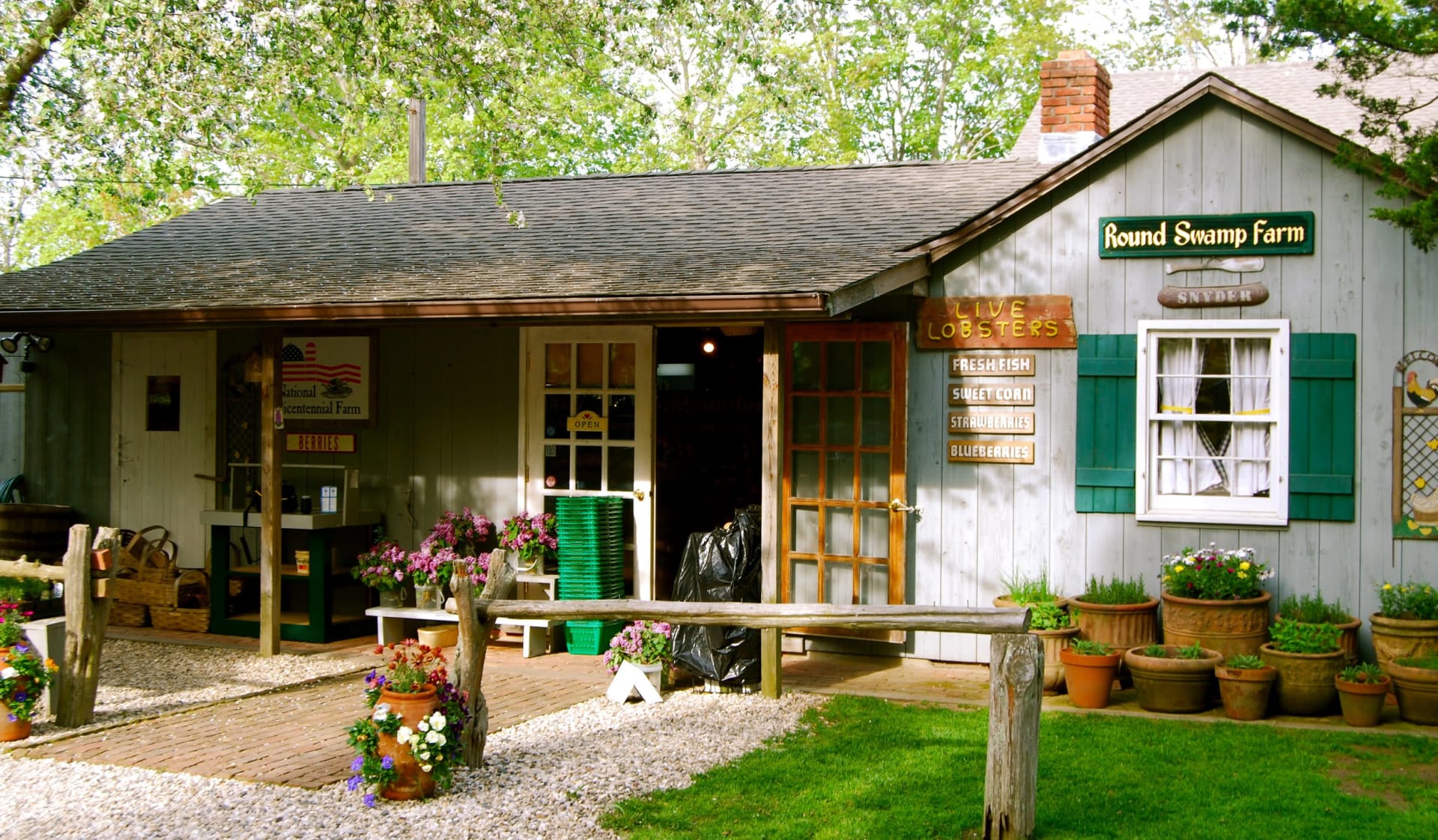 Round Swamp Farm's original East Hampton storefront.
4. Round Swamp Farm, Bridgehampton, East Hampton, + Montauk
Originally established as a farm stand in the 1960s, Round Swamp Farm has become a beloved destination for an array of delectable prepared foods, from delicious baked goods to salads, dips, and proteins ready to eat (or re-heat). With their fresh local produce still on offer, of course, Round Swamp is your one-stop shop for fine ingredients or a full beach-picnic-ready platter, with convenient locations in East Hampton, Bridgehampton, and now Montauk. We especially love their chicken salad, broccoli salad, and short ribs, and you can't beat their fresh pies or their various styles of chocolate chip cookies!
La Fondita's cool, open quick-service counter.
5. La Fondita, Amagansett
With a name meaning "little kitchen," La Fondita brings the essence of a traditional taqueria to life with authentic Mexican street food highlighting fresh, local ingredients. In true taqueria fashion, enjoy your meals on the picnic tables outside or they travel very well to-go. While you can't go wrong with anything on the menu, the fish and shrimp tacos are real standouts, after all, you are at the beach!
6. Ruby Murrays, Sag Harbor
Sag Harbor's other newest to-go spot – so new it's not even open quite yet – is opening its first storefront after finding success as a delivery-only restaurant since January 2023. Ruby Murray's quick rise to success can be attributed to a cult following and incredible reviews, but mostly to their food – a slow-cooked, British-style Indian cuisine. We'll be first in line as soon as they open, which they promise will be "very, very soon!"