As Memorial Day signals the start of the highly anticipated Hamptons season, it's time to discover the vibrant pulse of this exclusive destination. Prepare for a summer of glamour and excitement, as the Hamptons once again becomes the ultimate place to see and be seen. This year, be sure to indulge in the culinary delights of the red-hot new restaurants that have taken the hamlets and villages by storm.
These dining establishments are set to be the talk of the town, boasting not only exquisite cuisine but also breathtaking views, stunning interiors, and irresistible libations. Securing a reservation at these sought-after spots will be a formidable task throughout the season. To ensure you don't miss out, we've curated a list of six of the most sizzling new eateries in the Hamptons.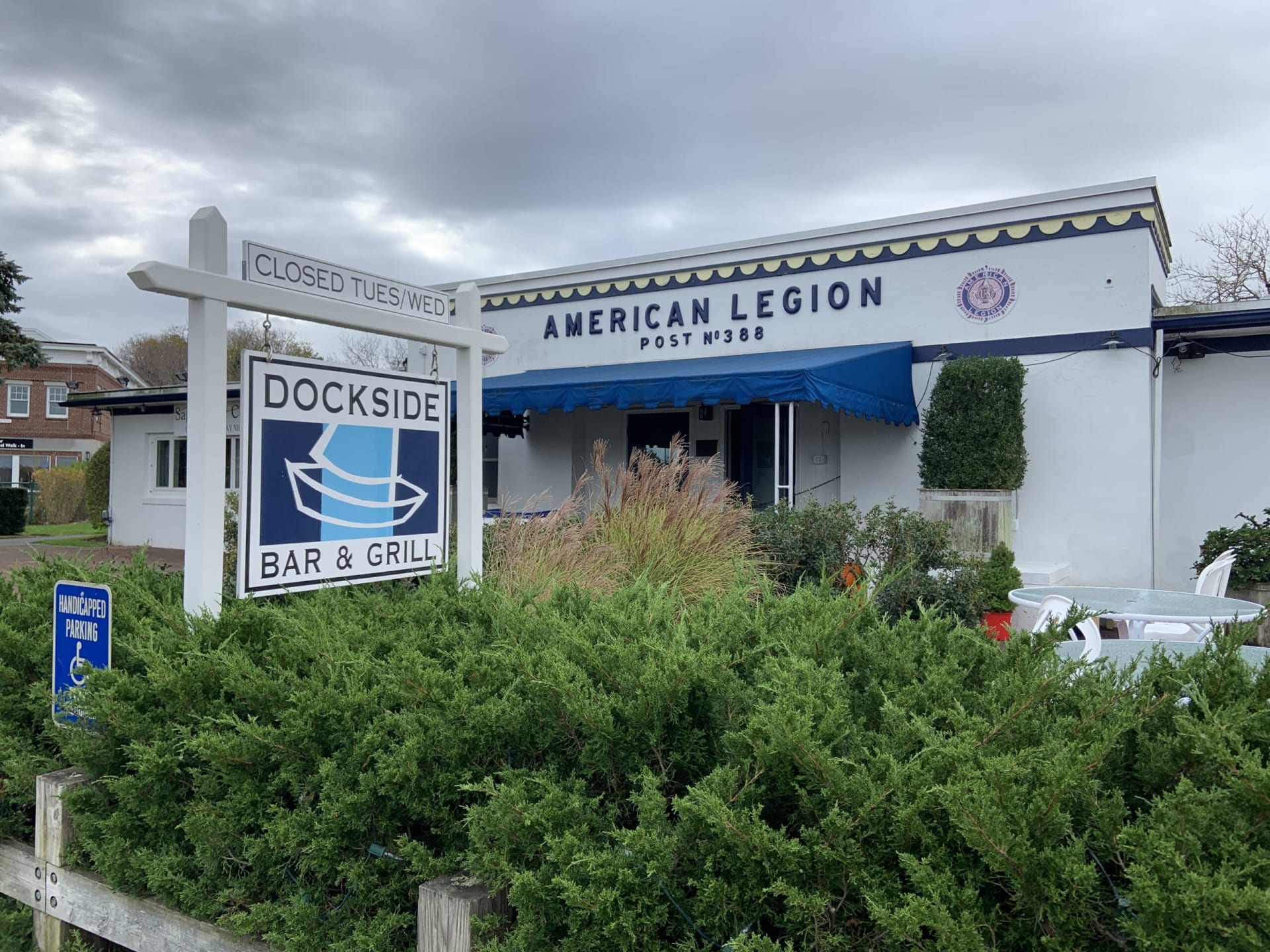 The former Dockside space to be taken over by Sag Harbor Kitchen.
1. Sag Harbor Kitchen, Sag Harbor
While it may have big shoes to fill as the successor to the beloved Dockside at the American Legion in Sag Harbor, we're pretty sure Sag Harbor Kitchen is up to the task. The highly anticipated restaurant is the brainchild of chef Melissa O'Donnell, a pioneer on the New York food scene, who has been recognized for her work with five Michelin Bib Gourmand awards at three different restaurants. Set to open with a limited menu for Memorial Day weekend, with a grand opening scheduled for Thursday, June 15th, Sag Harbor Kitchen's menu will feature fresh, locally sourced ingredients from land and sea, combining traditional techniques with modern twists in an inviting atmosphere with an open kitchen and communal tables. The extensive wine list will feature a curated selection of fine wines from around the world, with a special focus on coastal wines including the North Fork of Long Island, the Pacific Coast wine regions, Tuscany, Chile, and Bordeaux, along with innovative handcrafted cocktails, featuring local ingredients and artisanal spirits.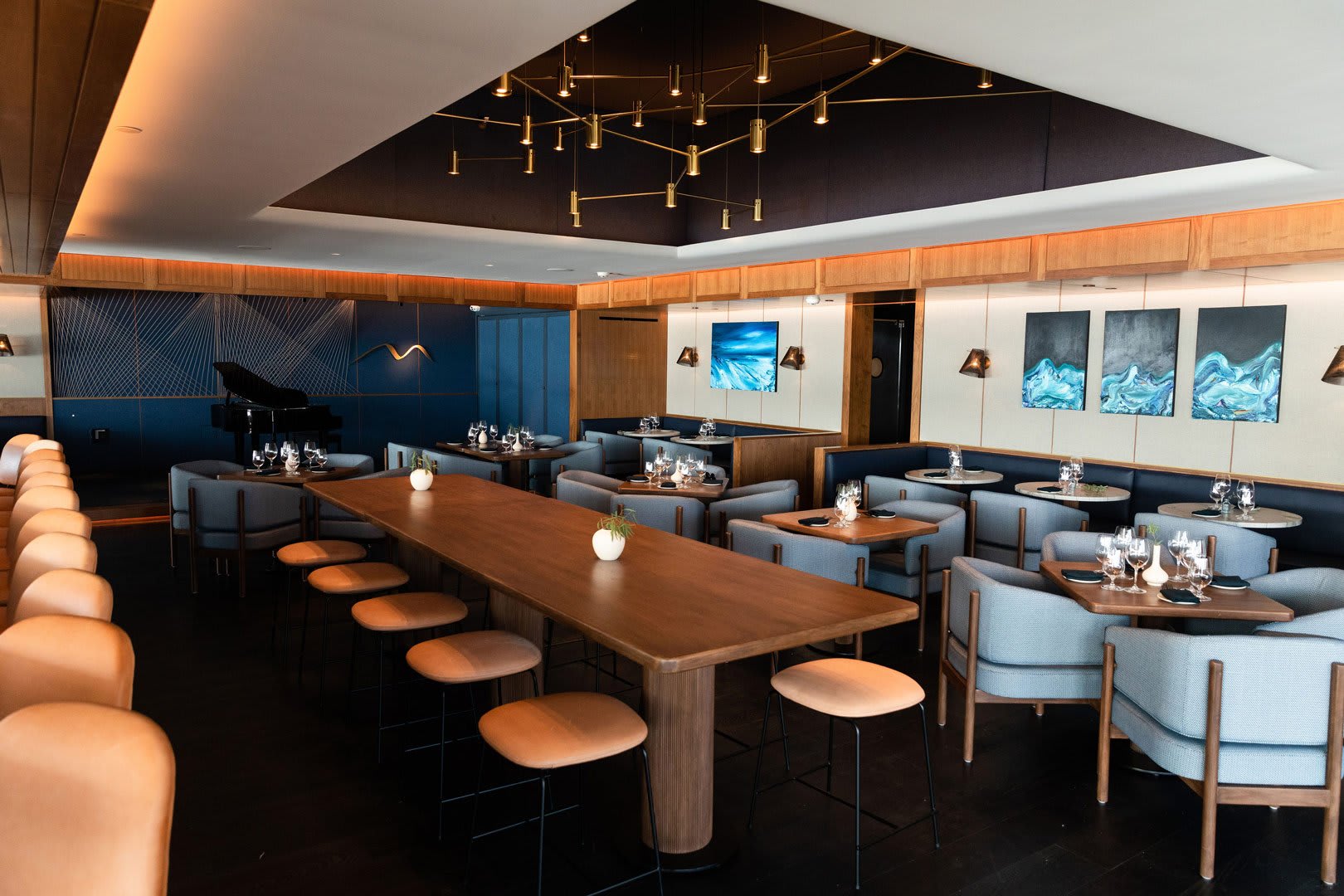 The chic, modern dining room at Maverick's.
2. Maverick's, Montauk
Discover the culinary brilliance of Executive Chef Jeremy Blutstein. Having built a stellar reputation through his work in various Hamptons kitchens, at Maverick's in Montauk, Blutstein pours his heart and soul into every dish, showcasing the finest ingredients that consistently captivate his audience on social media. The restaurant has already become a sought-after hotspot among Montauk locals, and with its rising popularity, this restaurant is an absolute must-visit for any visitors who want to indulge in delicious local seafood, like the chilled Montauk Jonah crab claws or whole Montauk fluke meunière, or delicious bounty from the land like the ash-roasted Amagansett beet salad and 5 different steak options, and more!
3. Fini Pizza, Amagansett
Having gained popularity in Brooklyn's Williamsburg, Fini is expanding to Amagansett's Main Street in the old Astro Pizza space. The location has been divided into two spaces: a 25-seat pizzeria with a classic slice shop ambiance, and Fini Beach Club, a small venue for private events. The pizzeria menu will feature traditional pies like tomato, pepperoni, and white, and the full bar will offer classic cocktails such as Painkillers and Southsides, along with seasonal Italian ices made with ingredients from nearby Amber Waves Farm.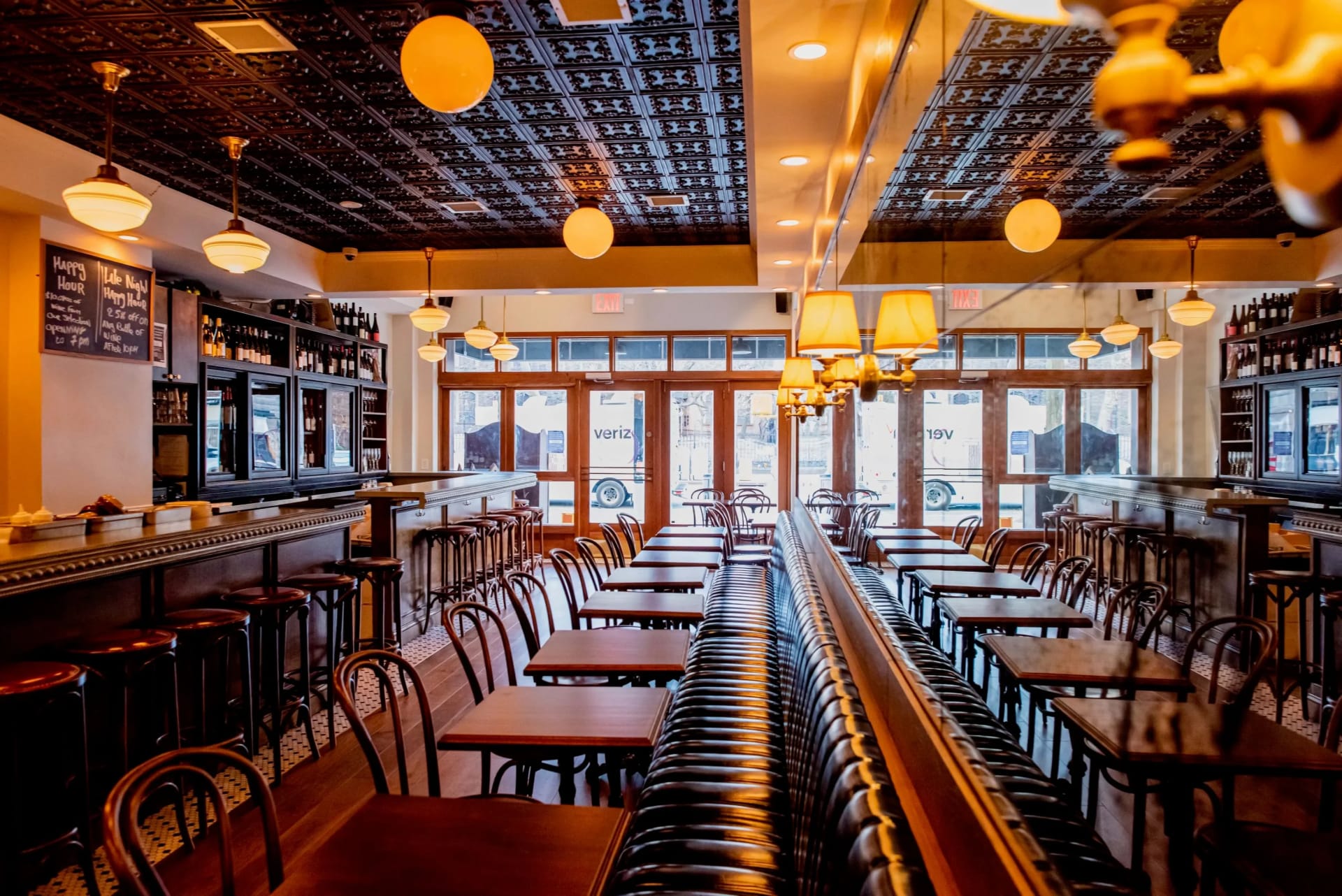 One of Vin Sur Vingt's Manhattan locations for a taste of what you can expect in the new Sag Harbor wine bar.
4. Vin Sur Vingt, Sag Harbor
Sag Harbor is getting a wine bar with the East End branch of renowned Paris-inspired wine bar chain, Vin Sur Vingt. The restaurant aims to recreate the enchanting ambiance of a neighborhood bistro, pairing an incredible rotating selection of 200 French wines with bites from classic croque monsieurs to creatively global dishes like yuzu-infused Montauk scallops with strawberries and tarragon. Not a bad neighbor to have next to our Sag Harbor office!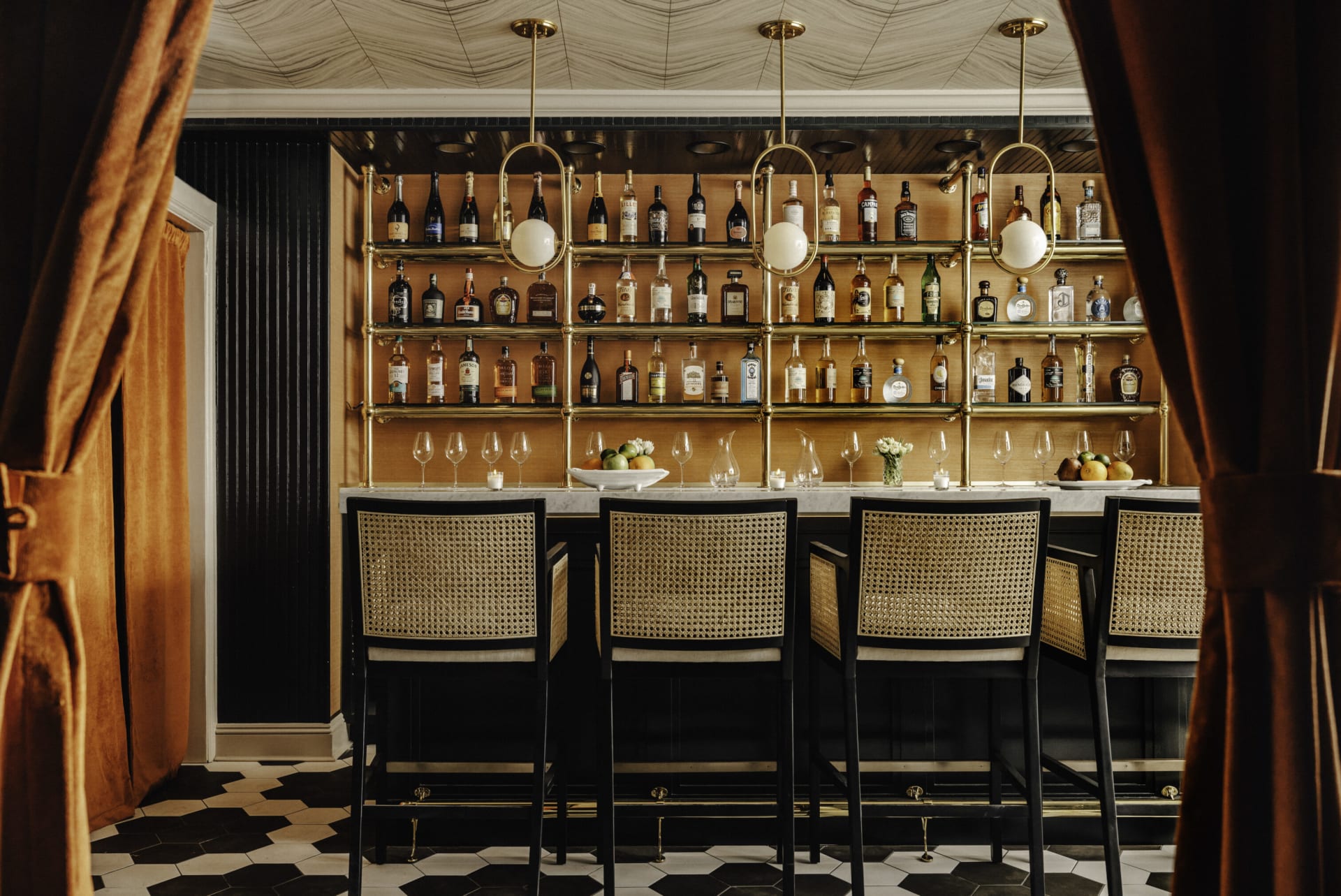 The gorgeous bar at Enchanté Bistro!
5. Enchanté, Southampton
From the group behind East Hampton Point and Si Si, this brand new Southampton establishment pairs exquisite aesthetics with phenomenal cuisine. Offering an exciting brunch experience—a rarity among top restaurants in Southampton—and an impressive dinner menu featuring Peconic escargot, chicken liver mousse, and dry-aged duck breast, Enchanté is a welcome addition to the Southampton restaurant scenes
6. Christian's by Wölffer, Amagansett
Revered for their expertise in wine and entertainment, it's no surprise that the Wölffer family's latest establishment is generating quite the buzz. Named after the late Christian Wölffer, Christian's is a culinary exploration into locally sourced seasonal fare, with a dining experience that aims to blend fun and sophistication, paired of course with Wölffer's award-winning wines. Signature dishes aim to incorporate the local geography of both land and sea, from the chicken paillard and grilled Wagyu sirloin to the bouillabaisse and herb-crusted Montauk Tuna. Christian's will also host a "Vinyl Brunch" on Saturdays (from 11AM - 2:30PM) with a live DJ spinning vinyl records.